2/24(木)五感プロジェクト~First Reflection/初期反射~@JZ Brat
2011-01-09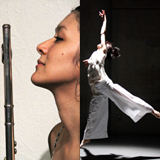 フルート大使Miya、コンテンポラリー・ダンサーのJOU、写真家の倉持壮を軸に繰り広げられるインプロアート。
1枚の写真をモチーフに、あらゆるボキャブラリーを駆使して表現するオーダーメイドな空間。

2/24(木)渋谷JZ Brat
Open 17:30 Start 19:30

出演
Miya(flute)
JOU(dance)
倉持壮(photo)
高橋英明/mjuc(electronics/piano)

Charge 予約¥3,500 当日¥3,800 学生¥2,000(要学生証)
ご予約・お問い合わせ JZ Brat 03-5728-0168
インターネットでのご予約(24時間受付)www.jzbrat.com

Miya's Five Sense Project~First Reflection

An improvisation art created by flute player Miya, contemporary dancer Jou, photographer So Kuramochi and Hideaki Takahashi on electronics.
Beginning with one motif [Hikari/Light] they use all the possible vocabulary they have to create an order made space. Refering to the ancient greek word Kairos (meaning the right or opportune moment) they will make the decision on what to do at the right moment, express the quality of time, what happens when different personal times meet for the first time,which they call [First Reflection}.